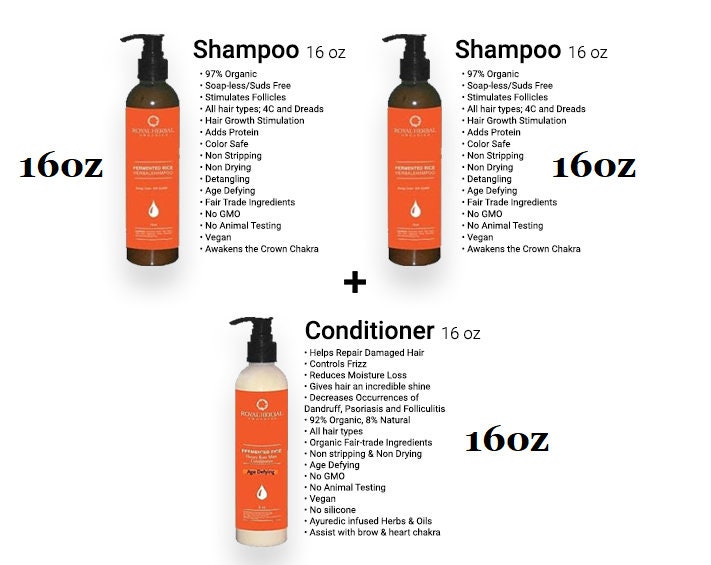 2 X's Fermented Rice Shampoo + LARGE Rose Otto Conditioner 16 oz |Organic & Natural Hair Care | Hair Growth Shampoo | Detox Shampoo
$83.99 $119.99
Details
♥DOUBLE YOUR WASH ROUTINE..you asked for it so here you have it 2 x shampoo bundle. Great savings and value.
>>>>>>>>>>>>>>>>>>>>>>>>>>>>>>>>>>> SHAMPOO<<<<<<<<<<<<<<<<<<<<<<<<<<<<<<<<<<<<<<<<<<

♥Get your hair back on track by giving Fermented Rice Herbal Shampoo / Hair & Scalp Detox a try.
This is a 3 in 1, Co-Wash*SHAMPOO* SCALP RENWAL DETOX. Delay's grays, grows back edges and optimizes any conditioner after use. With over 20 years of research and development and 98% customer satisfaction, FERMENTED RICE HERBAL SHAMPOO is not only a shampoo but a Co-Wash & Scalp Renewal Detox this NON SUDS-NO LATHER potion brings a whole new experience to anyone's hair regimen.

♥Worlds best keep secret for long healthy hair. Fermented rice has been used for years
to keep hair long, thick and also delays and even prevents grey hairs.♥


♥You will NOT find any of these chemicals in my products, like Silicone's, Petroleum, SLS, Phthalates, Paraben of any kind, propylene glycol, & other harsh chemicals.♥


Fermented rice wash has long been used for centuries in parts of Asia & Africa for clear skin and long, luscious hair.

The Yao minority ethnic women from Huangluo Village, in Guangxi Province, in southern China, have one striking feature in common—their extraordinarily long hair that stays black until they are around 80 years old. Go figure! With their average hair length of about 6 feet, the Yao ethnic women made it to the Guinness Book of World Records as the "world's longest hair village." Part of their secret to having such long hair lies in washing it with fermented.

Near the Southern tips of Angola, reside the Mbalantu tribes of Namibia. Mbalantu women are known for their 7ft hair. They too have been known for using fermented water for washing before adding finely ground tree bark of the omutyuula tree. They do not start graying until 80 years. Some do not grey at all.


♥ ♥ ♥ ♥ ♥ ♥ ♥ ♥ ♥ ♥ ♥ ♥ ♥ ♥ ♥ ♥ ♥ ♥ ♥ ♥ ♥ ♥ ♥ ♥ ♥ ♥ ♥ ♥ ♥ ♥ ♥ ♥ ♥ ♥ ♥ ♥ ♥ ♥ ♥ ♥ ♥ ♥ ♥ ♥ ♥ ♥ ♥ ♥ ♥ ♥

♥ You will get a FULL 16 ounce bottle (BEST VALUE)
• 97% Organic
• Soap-Less/ Suds Free
• Stimulates Follicles
• All hair types; 4C and Dreads
• Hair Growth Stimulation
• Delays Grey Hairs
• Color Safe
• Non Stripping
• Non Drying
• Detangling
• Age Defying
• Fair Trade Ingredients
• NO GMO, VEGAN, No Animal Testing
• Awakens the Crown Chakra

INGREDIENTS:

♥Fermented Organic Rice Water; organic wild rice used in fermentation process. This
has been a staple in Asian & African women beauty regimen for centuries. Best kept secret in the
celebrity circle.

♥Alma aka Indian Gooseberry; this is a healing berry very beneficial to your health. Helps
stubborn hair to grow and has been used in Ayruvedic medicine for centuries.

♥Yucca Root; this cleanse thoroughly without stripping but does not lather.

♥Soap Berry: this organic cleansing agent lathers very little and assist with cleansing and detoxification.

♥Peppermint; an oldie but good and very popular in the EO world. Assist in awakening dormant crown
chakra and stimulates hair growth.

♥Neem; assists with hair growth, dandruff relief, soothes and conditions itchy scalp, helps to prevent and
get rids of hair lice.

♥Rosemary; grows hair , improves memory, detoxifies, balances, thickens hair and calms scalp.

♥Aloe Vera; repairs and soothes scalp, promotes new growth, reduces dandruff assist all other herbs
and oil by giving them a conductive boost. This also detoxifies the hair and scalp.

♥Germall Plus 1%.; uses as a natural preserve which does not disturb active ingredients mentioned.


DIRECTIONS: Apply to hair by adding to scalp then distributing through hairs. Massage scalp for a few seconds comb through from tip of hair to root; dreads or braids rub through. Cover for 30 or more THE LONGER THE BETTER. Rinse out
when ready. Repeat again IF NEEDED this time leaving in for a few minutes (5-7 mins) the second time around (comb/rub through again )and rinse out.

NOTE: you do not have to cover hair however this is the preferred method of most that use this treatment. They claims it penetrates better and optimizes their conditioner.

>>>>>>>>>>>>>>>>>>>>>>>>>>>ROSE OTTO CONDITIONER 16oz<<<<<<<<<<<<<<<<<<<<<<<<<<<<<<<<<<<

This unique conditioner goes hand to hand with the fermented rice shampoo has Organic Organ Oil, Organic Rose Otto Oil, Organic Mint Oil and other beneficial properties. This is age defying conditioner will restore and tame hairs giving it a youthful look. Gaur Silk and Baobab protein contains minuscule protein and fibers which offers a plethora of benefits that strengthens hairs as well as moisturizes. This formula will condition hairs with out any build up. Infused with gem & crystal vibration to assist the heart and brow chakra.


Benefits
• Helps Repair Damaged Hair & Controls Frizz
• EXCELLENT for color treated hair
• Increases Elasticity and Strength
• Reduces Moisture Loss and Imparts Shine
• Gives hair an incredible shine with continuous usage
• Decreases Occurrences of Dandruff, Psoriasis and Folliculitis
• WILL NOT LEAVE BUILD-UP ON HAIR OR SCALP
• 92% Organic 8% Natural
• ALL HAIR TYPES
• Organic Fair-trade Ingredients
• Non Stripping & Non Drying
• Age Defying
• NO GMO, VEGAN, No Animal Testing , NO SILICONE
• Ayuredic infused Herbs & Oils
• Assist Brow & Heart Chakra

INGREDIENTS: Fermented Organic Rice Water (fermenented with pure water; no contaminants), Organic Raw Organic Honey, Organic Mint Oil, Organic Rose Otto Oil, Organic Argan Oil, Organic Baobab Protein, Aloe Vera Plant, Cetearyl Alcohol, Gaur Silk, Panthenol 2%.

Directions: Apply this conditioner to hair after shampooing. Comb or rub through if choose, Cover for 30-45 minutes (method preferred by most).

NOTE: you do not have to cover hair however this is the preferred method of most that use this treatment.
I've used RHO for a while now and out of all the hair products I've tried (and I've tried many), my hair seems to love RHO the most. My hair is 4C texture and it was at its healthiest when I was using RHO products regularly. At some point, I've probably used every item in RHO product line (except the elixir which I want to try) and my hair is always left moisturized with nice curl definition and minimal breakage. Thank you for the fast shipping, the free samples and for providing quality hair products!
The rice shampoo is great. If you follow the directions carefully on each product if will give you satisfaction you need. I love the smell of the conditioner. Great products
Shipping from United States
Processing time
3-5 business days
Estimated shipping times
Canada : 7 - 10 business days
North America : 7 - 10 business days
Europe : 7 - 10 business days
Australia, New Zealand and Oceania : 7 - 10 business days
I'll do my best to meet these shipping estimates, but can't guarantee them. Actual delivery time will depend on the shipping method you choose.
Customs and import taxes
Buyers are responsible for any customs and import taxes that may apply. I'm not responsible for delays due to customs.
Returns & Exchanges
I don't accept returns, exchanges, or cancellations
But please contact me if you have any problems with your order.
Frequently Asked Questions
Why a NON-SUDS potion?
This just works well decided not to alter it by adding and suds agent.